Classic asparagus risotto is a springtime favorite. This fancy vegetarian risotto with green asparagus is soft and creamy, bright and fresh. The dish will be on the table in less than 30 minutes!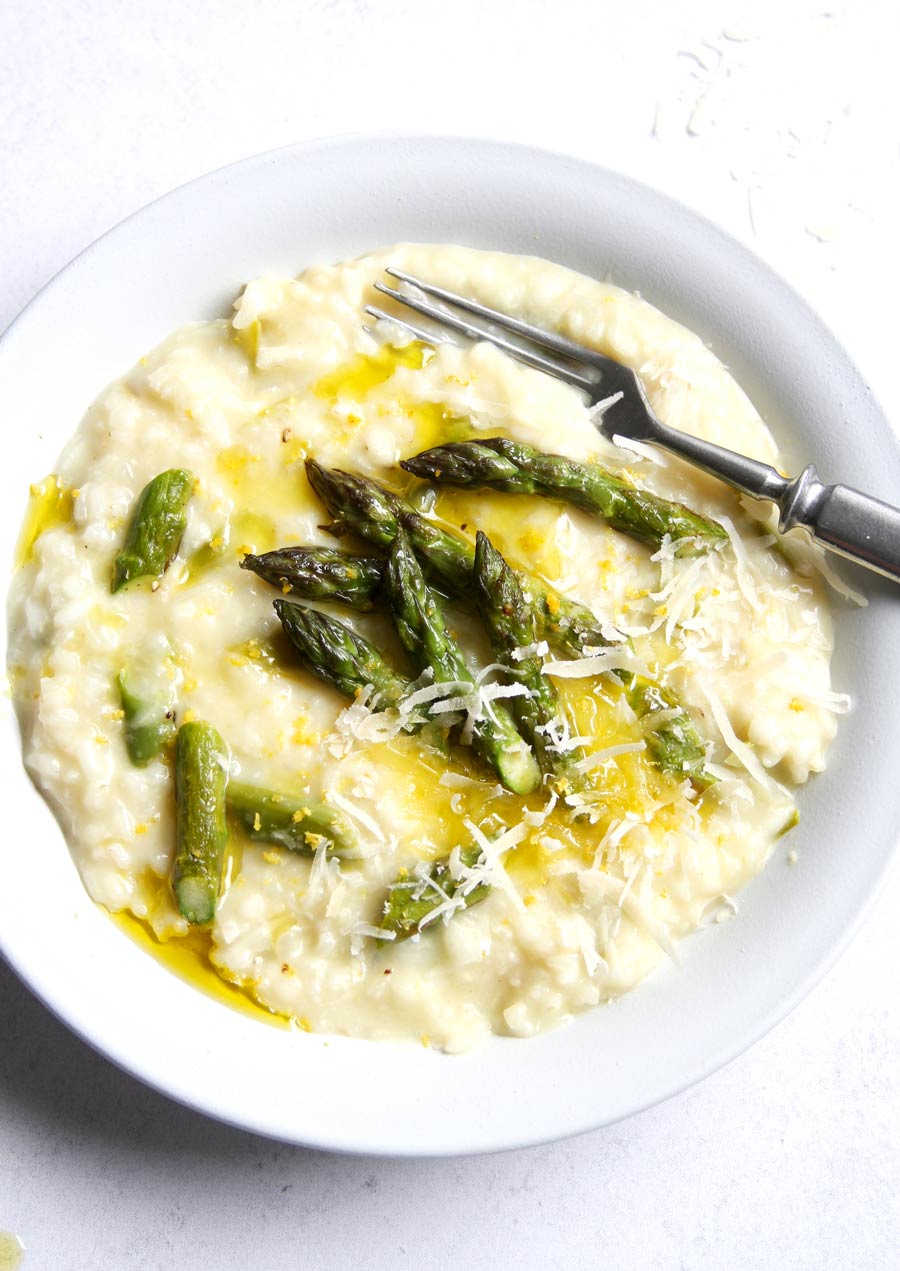 This delicious risotto cooks up in no time and you only need a handful of ingredients. Besides the 'classic' risotto ingredients like rice, onion, broth, wine, and parmesan, you will only need to get your hands on some fresh asparagus. The risotto is also easy to veganize.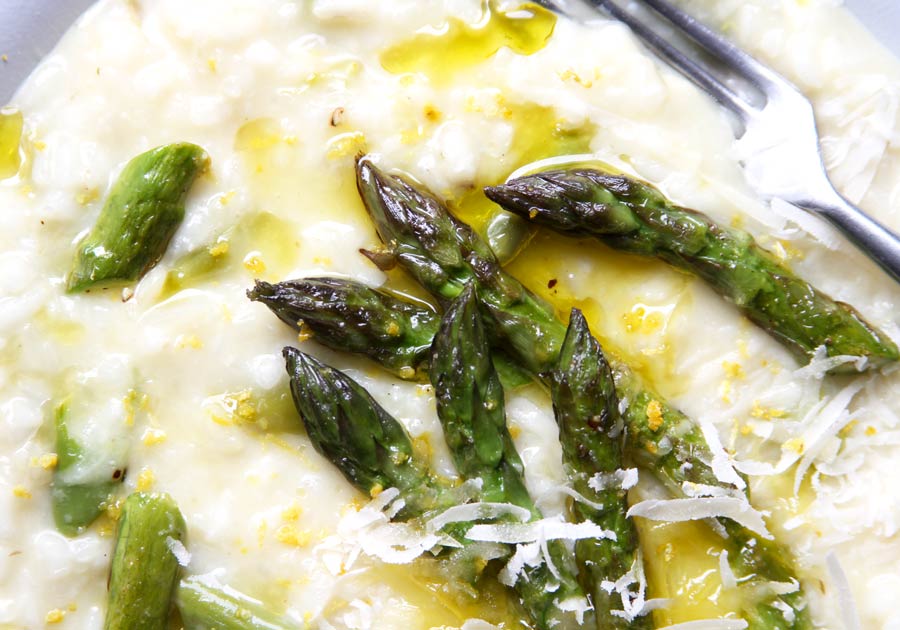 Asparagus Risotto Ingredients
Here is what you'll need to make this recipe:
Green asparagus: I prefer thin spears, which don't require peeling. They'll cook up tender and still add a pleasant crunch.
Risotto rice: Italian short-grain or medium-grain rice gives the risotto a perfect creamy texture. Arborio rice or carnaroli rice are two of the most famous risotti rice. Supermarkets often simply label 'risotto rice'. Don't rinse before using.
Olive oil: Adds richness and more depth. Might also be used for garnish.
White wine: Dry white wine like Pino Grigio, Sauvignon Blanc, or a dry and crisp Riesling are good choices. Choose a bottle that you want to drink along with the risotto.
Vegetable broth: Use store-bought, or make your own. Vegetarian bouillon powder or cubes are also good options since they are a pantry staple. Store-bought broths (tetra pak, powder, and cubes) greatly vary in taste (some are aweful!) so make sure to choose a good one.
Parmesan cheese: Adds some saltiness and depth to the risotto and makes it creamy. You can use Pecorino cheese too! Skip it to make this asparagus risotto vegan.
Butter: Butter is only needed to sautee the asparagus tips. Either use salted butter or unsalted plus a pinch of salt. For vegan, substitute with olive oil. There is a simple version (see bottom note in the recipe card below), that skips the sautéing-step altogether.
Optional: Lemon zest: Grated over the finished risotto, the zest is not purely decorative garnish but also gives the risotto a nice bright finish. Use organic lemons for zesting.
Optional: Salt and pepper: If using wine, broth, and parmesan cheese, adding additional salt is not necessary most of the time. A sprinkle of freshly ground black pepper to finish makes the flavors pop. Only use a little, it can quickly get overpowering!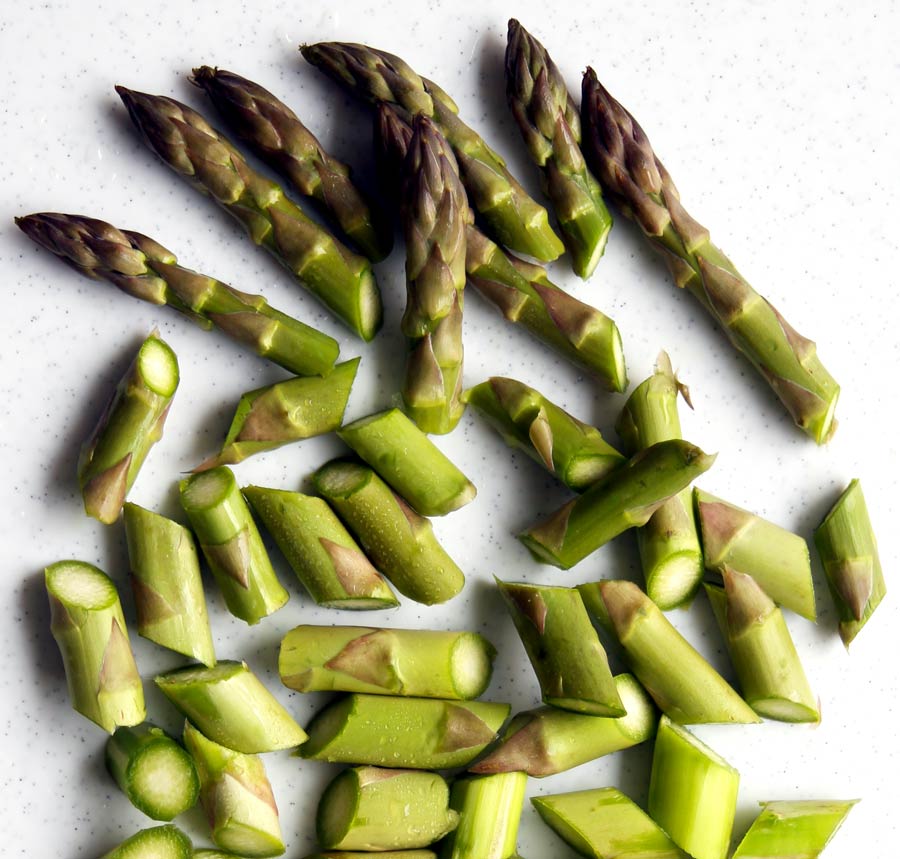 Can I make risotto without alcohol?
Yes, you can make risotto without white wine. Simply use more broth instead of the wine, and if on hand, add a splash of lemon juice or a tablespoon of white vine vinegar. I often do this when I don't have an open bottle of wine in the fridge and don't bother to open a new one.
Heads up: In my opinion, the risotto tastes better when using white wine since it adds some acidity and depth. Someone who barely eats risotto will probably not notice but risotto-pros will taste the difference.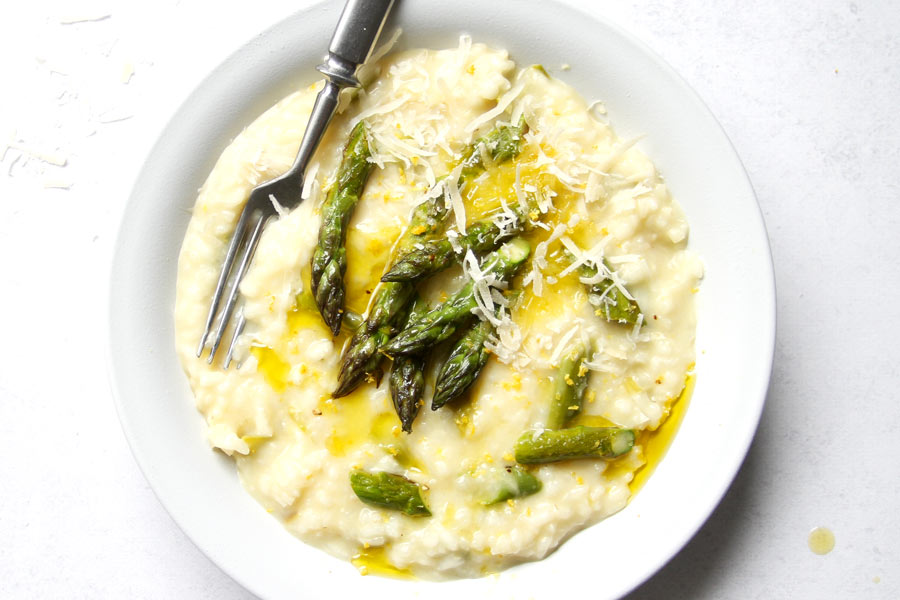 If you make this classic asparagus risotto, be sure to leave a comment and/or give this recipe a rating! I hope that you'll love it as much as I do!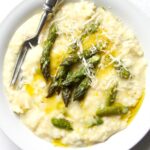 Print Recipe
Click stars to rate now!
Asparagus Risotto (easy but fancy)
Classic asparagus risotto that is ready in less than 30 minutes. This fancy vegetarian risotto with green asparagus is creamy, bright and fresh – plus easy to veganize.
Yield:
4
first courses or 2 large main dishes
Ingredients
½

pound

(225 g) green asparagus

2

cups

(500 ml) vegetable broth

½

small yellow onion

(60 g; about ⅓ cup chopped)

1

tablespoon

olive oil, plus more for serving

1

cup

190 g risotto rice

(e.g. arborio or carnaroli rice)

¾

cup

180 ml dry white wine

(see note for non-alcoholic)

1

tablespoon

butter

(use olive oil for vegan)

½

cup

(45 g) freshly grated parmesan cheese, plus more for serving

(omit for vegan)

For serving (optional): grated organic lemon zest, freshly ground black pepper
Instructions
Wash asparagus. Trim tough ends. For thick asparagus spears: Peel the tough skins off the bottom half of the stalks using a vegetable peeler (no need to peel thin spears). Chop stalks into pieces, cutting the thicker ends shorter and leaving thin stalks and tips longer. Set the pieces cut from the upper halves aside, to separate from the thicker/tougher pieces that require longer cooking.

Heat the broth in a small saucepan until simmering. Meanwhile peel and finely chop onion.

In a medium-size saucepan, heat the oil on medium heat. Add the onion and cook for 1-2 minutes, until translucent. Add the rice and cook for 1 minute more, while stirring.

Add the white wine and allow the rice to fully absorb the wine, stirring often.

Once the wine is absorbed (you should see the bottom of the saucepan when stirring), add the hot broth to the rice – yes, all of it. Stir occasionally, no need to stir constantly. After 5 minutes of cooking, add the thicker asparagus pieces.

Cook for 10 more minutes until the rice is almost al dente.

While the risotto is cooking, add butter, a pinch of salt, and the remaining thin asparagus as well as the tips to a small pan and sautee for a few minutes (see tip for simple version).

When the rice is tender and the asparagus are just cooked through, the risotto is ready. Turn off the heat, and stir in the parmesan. The risotto should be soft and creamy. If you prefer it soupier, add more broth or hot water to get to the consistency you like.

Serve in bowls and top with sautéed asparagus tips. If desired, serve with lemon zest, black pepper, grated parmesan cheese, and a drizzle of olive oil.
Notes
Alcohol-free risotto: For a non-alcoholic version replace white wine with broth. A splash of lemon juice or a tablespoon white wine vinegar adds some acidity. Simple version: Instead of sautéing the asparagus tips in an extra pan, you can add them to the pot directly 1-2 minutes before the rice is tender.