This classic caprese salad is the perfect summertime dish. Ripe tomatoes, fresh mozzarella, and aromatic basil leaves, drizzled in olive oil: caprese salad is super simple, yet unbelievable delicious!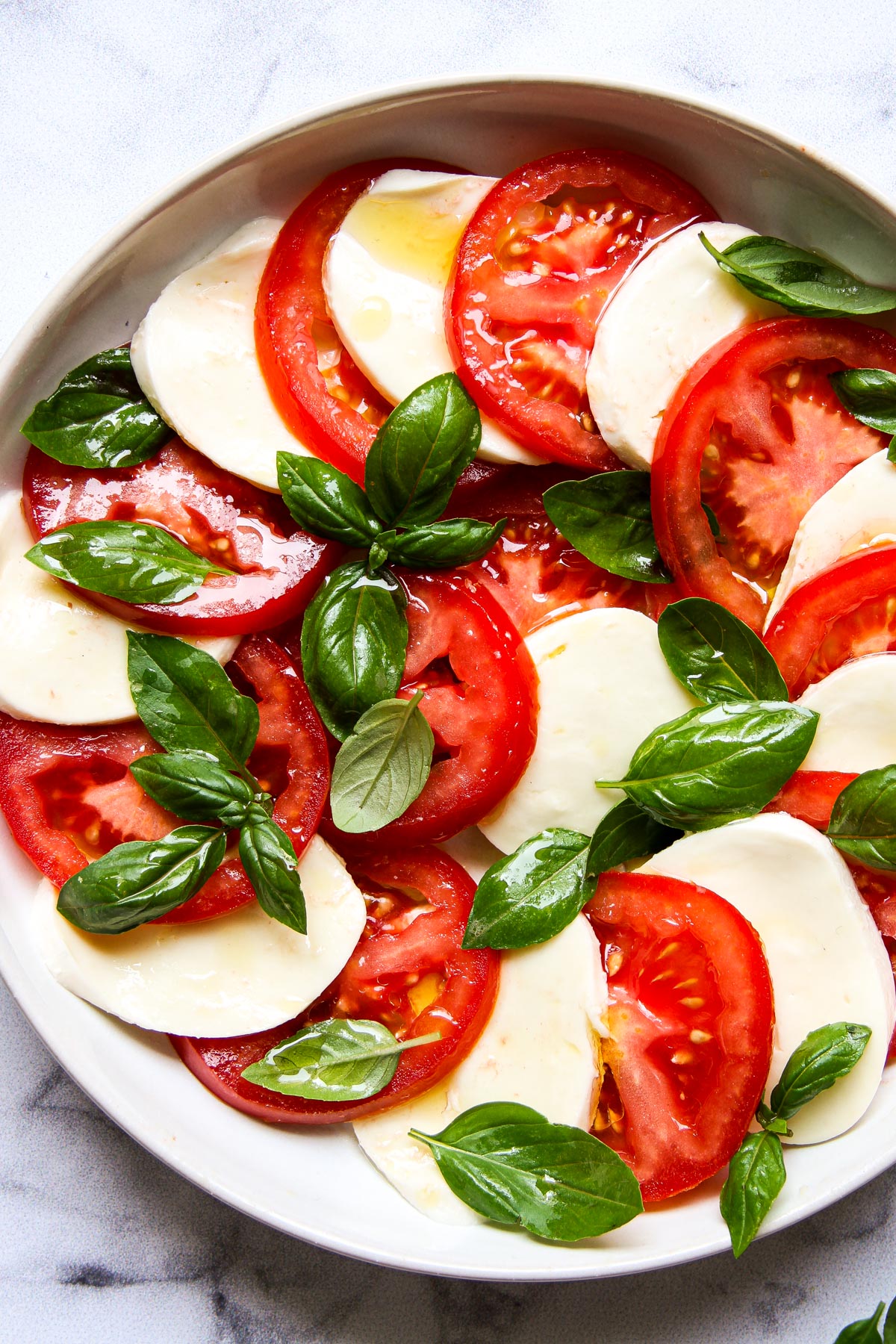 Ever since I've been visiting the island of Capri a few years ago, where this salad originates, caprese is my favorite summer salad! You hardly need a recipe for Insalata Caprese, so please use my recipe below as a guideline.
Quality ingredients
One thing I will point out: A dish with only a handful of ingredients relies on the best ingredients to taste stunning. Make this salad only during summertime, when tomatoes are most flavorful.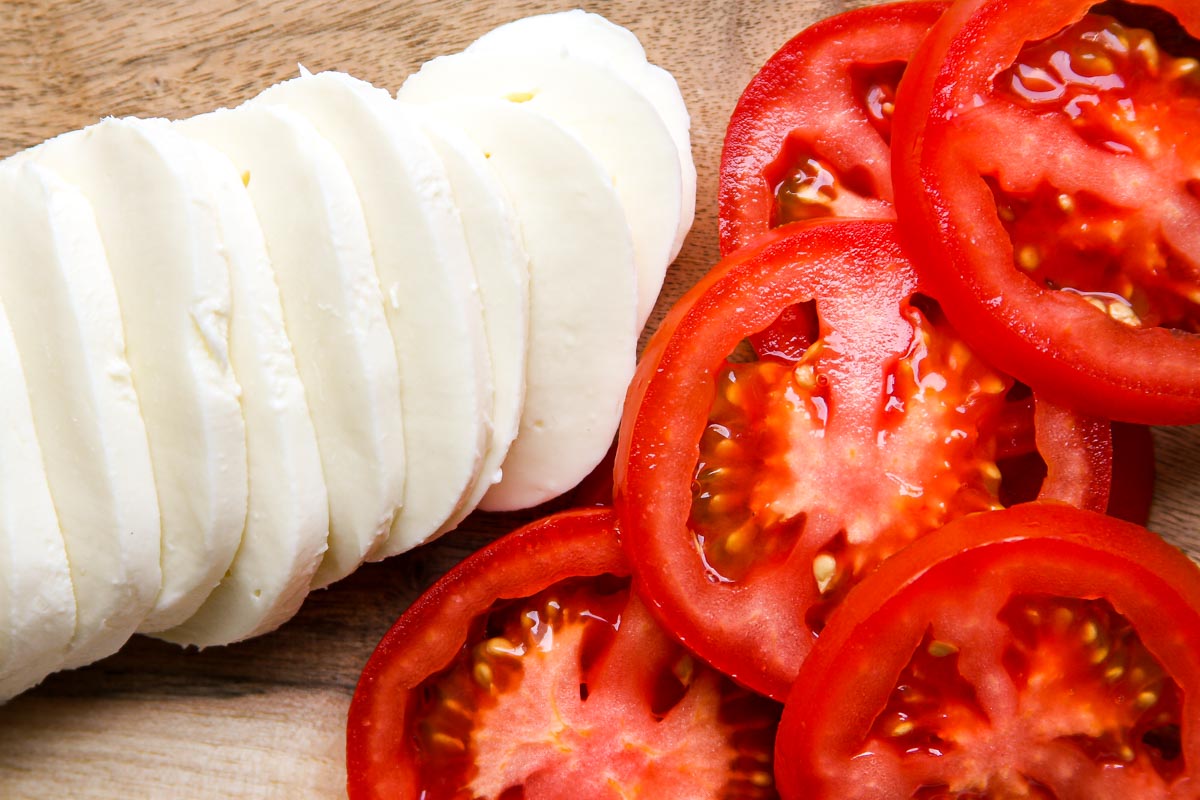 Ingredients for caprese salad:
Tomatoes: Only use flavorful, ripe, peak-season tomatoes. Plum tomatoes are my go-to.
Mozzarella: Use fresh, soft mozzarella balls that are packed in water.
Basil: Caprese salad needs fresh basil leaves. Pluck them from the plant right before serving. Supermarket herb pots are your best friend if you don't grow your own herbs.
Olive oil: Use your favorite cold pressed, extra-virgin olive oil. It has more flavor than the refined kind.
Salt: Fine or flaky sea salt is the best option.
Optional: balsamic vinegar: Authentic caprese salad is made without balsamic vinegar. But a small drizzle of it tastes awesome. Even better: Use thick, reduced, syrup-like balsamic reduction aka balsamic glaze.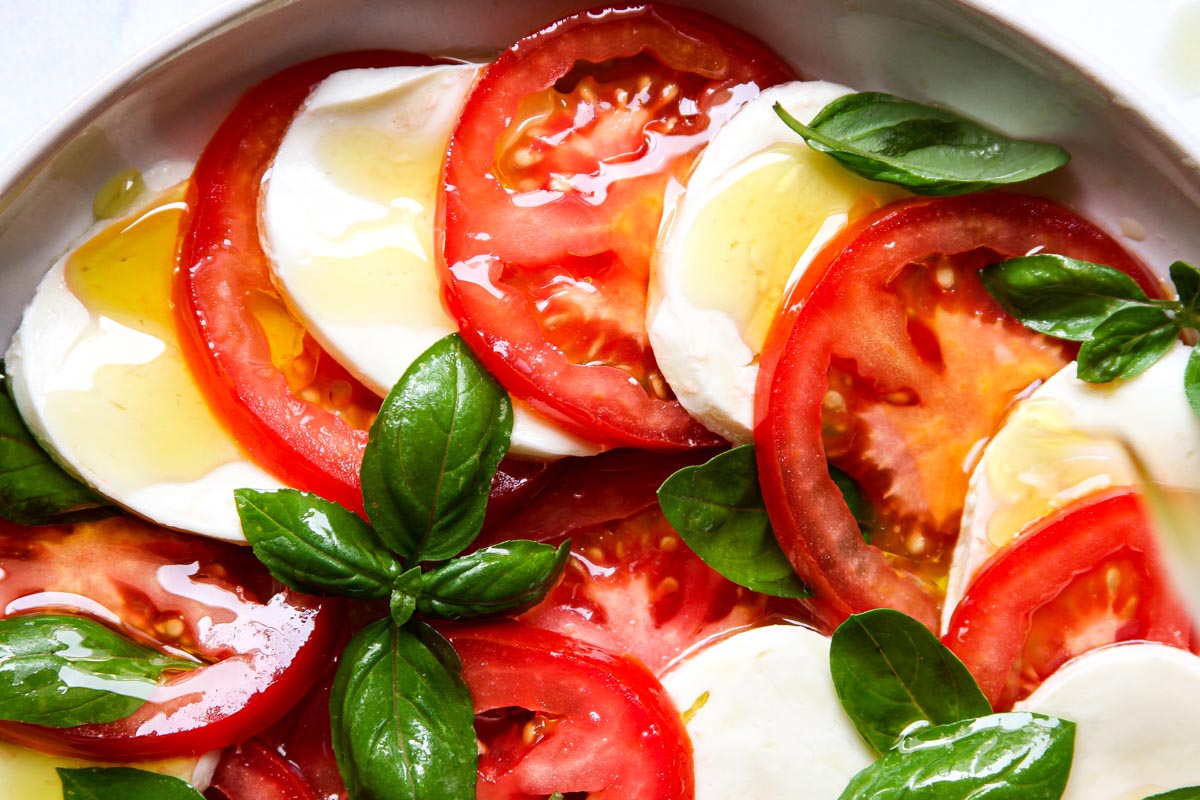 I hope you love this easy caprese salad. Please leave me a comment and rating if you do!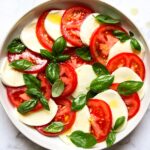 Print Recipe
Italian Caprese Salad - ready in 5 minutes!
This simple Italian caprese salad takes 5 minutes to make, start to finish. It's the perfect summer salad! Serve it as an appetizer or main - I love it with fresh or toasted white bread.
Ingredients
4

medium tomatoes

(use ripe peak-season tomatoes)

8

oz

(225 g) fresh mozzarella

(packed in water)

Fresh basil leaves

2

tablespoons

extra-virgin olive oil, plus more for serving

Sea salt

(fine or flaky)

2

teaspoons

balsamic vinegar or balsamic glaze

(optional)
Instructions
Cut tomatoes into slices.

Drain the mozzarella and slice it.

Alternate tomatoes and mozzarella slices on a platter. Tuck some fresh basil leaves in between and put some on top.

Drizzle olive oil, (and balsamic vinegar, if using) on top. Sprinkle with salt.

I always serve it with additional olive oil (who can get enough of it?) making it perfect for sopping up the dressing with bread. Enjoy!