Make this absolutely delicious omelet with mushrooms and feta for a quick breakfast, lunch, or dinner. You'll only need 4 ingredients and less than 15 minutes to prepare.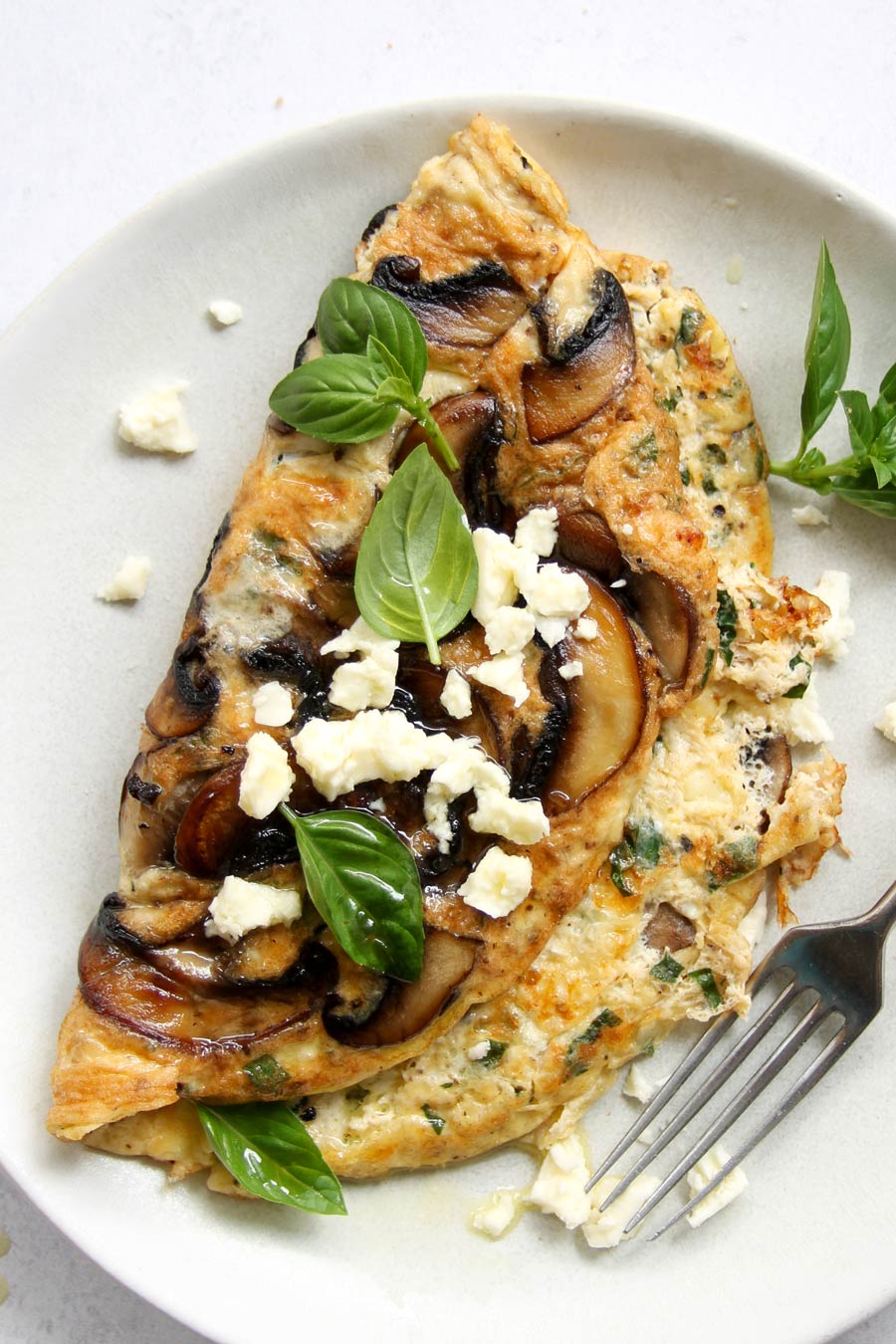 Quick weekday meal
Easy, simple, fast and absolutely delicious! Omelets are a great way to break up the weekday dinner routine. We usually think of omelets as a typical breakfast food. But serving it for lunch or dinner after a long day at work is brilliant since you can whip it up in no time.
It's just such a satisfying meal, especially when accompanied by a crusty slice of freshly baked bread (with salted butter).
The mushroom, cheese, and fresh basil version is always on top of my list (also see my mushroom cheese pizza). The ingredients complement each other perfectly. Adding a touch of lemon zest adds a subtle and light lemon flavor.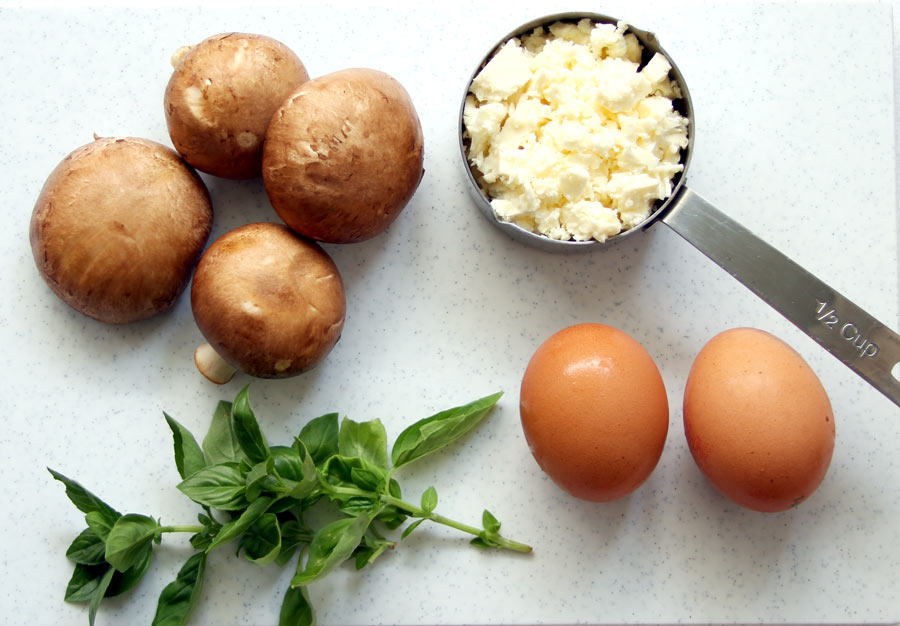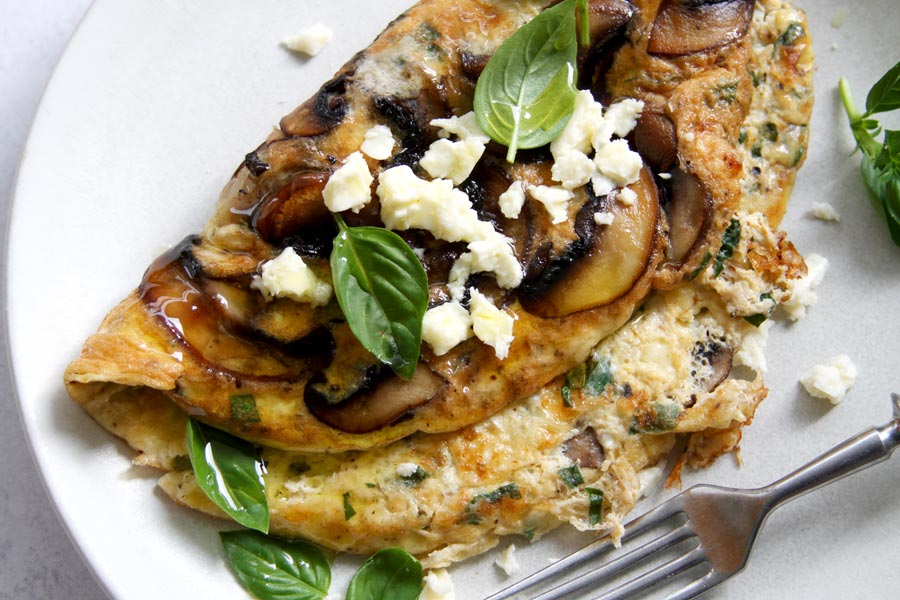 Difference omelet and frittata
Typically, an omelet is beaten eggs cooked in a pan and then folded over some kind of filling. Whereas frittata fillings are mixed in with the eggs in the pan rather than folded in the center.
Also, frittatas are cooked in an oven-safe skillet because they are started on the stovetop and then finished in the oven. Since the oven is involved, frittatas are usually made in a large pan for more people. An omelet is typically made to serve just one. Read more about the difference at thekitchn.
So this mushroom omelet is in fact a hybrid of both: It's quick, fuss-free, and easy to make on the stove-top for one person but the filling is added to the egg-mixture.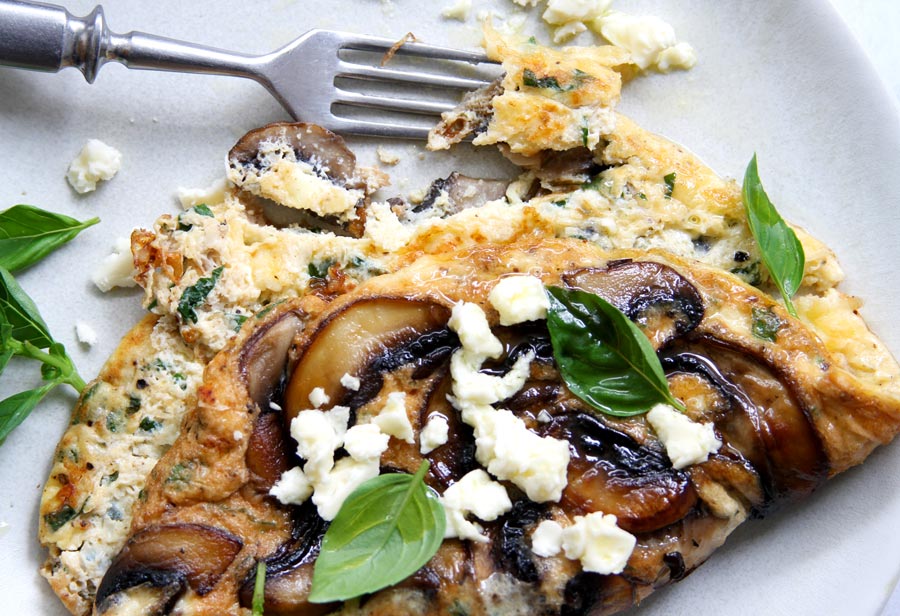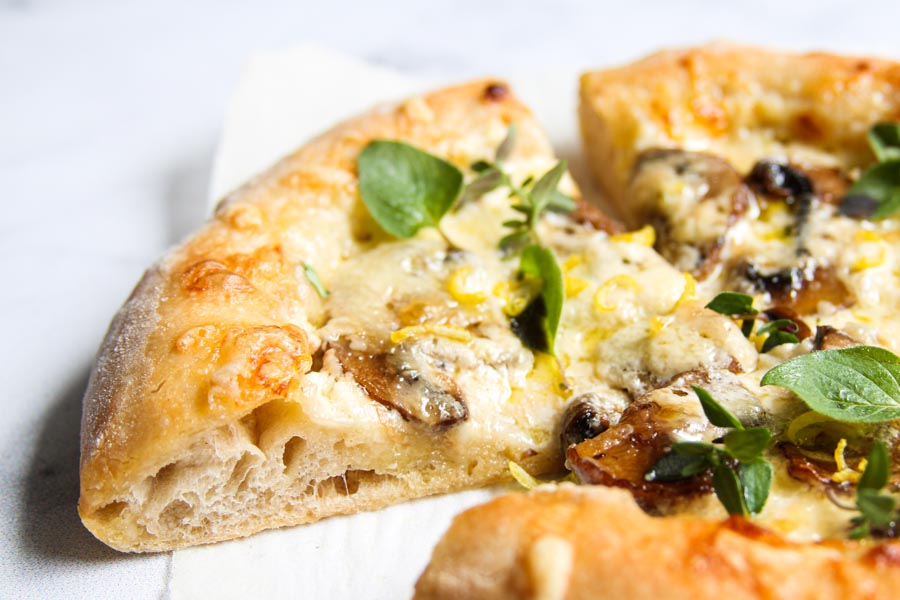 I hope you enjoy this mushroom feta omelet. Please leave me a comment and rating if you do!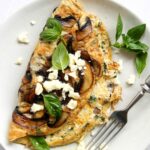 Print Recipe
Quick Mushroom Omelet with Feta (4 ingredients)
This quick and easy 4- ingredient mushroom omelet with feta and basil is perfect for any time of the day. It's one of my all-time favorite weekday meals!
Ingredients
4

(60 g) medium button mushrooms

2

large eggs

2

stalks fresh basil

(plus more for serving)

½

cup

(60 g) crumbled feta cheese

(plus more for serving)

Freshly ground black pepper

Olive oil
Instructions
Clean and slice mushrooms.

Add 1 tablespoon olive oil to a medium-size pan (about 7-inch or 18 cm) and heat over medium-high heat. Add sliced mushrooms and cook, stirring often, until softened and lightly browned, 3-5 minutes.

Meanwhile, crack eggs into a bowl, add 1 tablespoon water, and a few grinds of pepper (no salt needed due to the salty feta). Briefly whisk using a fork. Chop basil leaves or simply tear them into small pieces with your fingers. Add to the eggs.

Distribute the mushrooms evenly in the pan, and then pour in the beaten eggs. Sprinkle with feta.

Cook without stirring until the eggs have just set on top (approximately 4-5 minutes). Covering the pan with a lid will speed up the process a bit.

Use a spatula to gently lift the edges, then fold the omelet in half. Serve immediately, topped with more feta and basil, and a drizzle of olive oil as desired.
Notes
Lemon zest: Add some grated lemon zest to the beaten eggs for a light and subtle lemon flavor (fancy!). 2 servings:  Of course, you can double the ingredients for 2 servings. Just make sure to use a larger pan. If not, the eggs will not set before the bottom browns.